Hover to read captions, click to see enlarged images: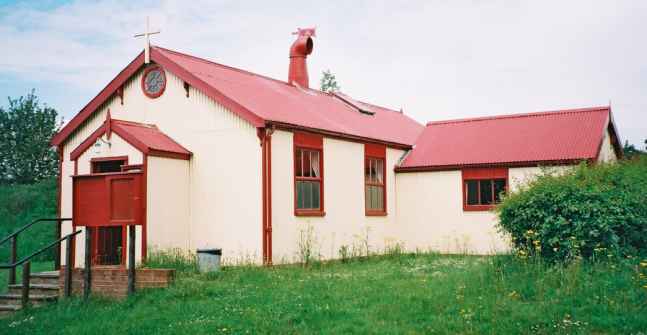 Great Moulton is between Diss and Norwich; as you may realise, this means that it is in Norfolk. However, when the local congregationalist community built a new chapel in 1990, they donated the old one to the East Anglian Museum of Rural Life. This meant that it was moved 30 miles south to the Museum's site in the centre of Stowmarket, Suffolk.
Moving a church 30 miles would ordinarily present considerable problems. But Great Moulton congregationalist chapel was a tin church, of a kind relatively common at the start of the 20th century, but now disappearing at a fast rate. It is good that this one was saved. It was built in Norwich by Boulton and Paul in the 1890s, and cost £105 18s 0d, about £20,000 in today's money. It was distinguished by two particular features; it had an extension room to the south, also made of tin, for the Sunday School - this cost about £20 of the total - and it had a total immersion font in front of the lectern. The price included transport to the nearest railway station.
The church was moved to Stowmarket in the early 1990s, reconstructed, refurbished, and reopened in 1995. The roof and fittings were painted in a jolly red, having spent the last few years a rather drab green. Inside, all is lovely wood panelling. Ranks of benches face a new reading desk, dated 1995 in Roman numerals (though not wholly correctly, I think). The immersion font grill is covered by rush matting, so you might easily miss it. The southwards extension has a ring of dear little children's chairs.
The chapel has been set at the north end of the site, beside the pretty Alton water mill, overlooking the mill pond. Also nearby are the Eastbridge windpump and a Victorian cottage.
When the building reopened, a celebration was held, led by the former community. If you want to see it today, you'll have to pay to get in, I'm afraid, and entrance to the East Anglian Museum of Rural Life is very expensive; or so it seems to me. When I last visited, I paid £14 for an adult and two children, and we were among no more than a dozen visitors in total. We were easily outnumbered by all the staff, most of whom seemed to be sitting around in the sunshine. Still, I suppose they know what they are doing.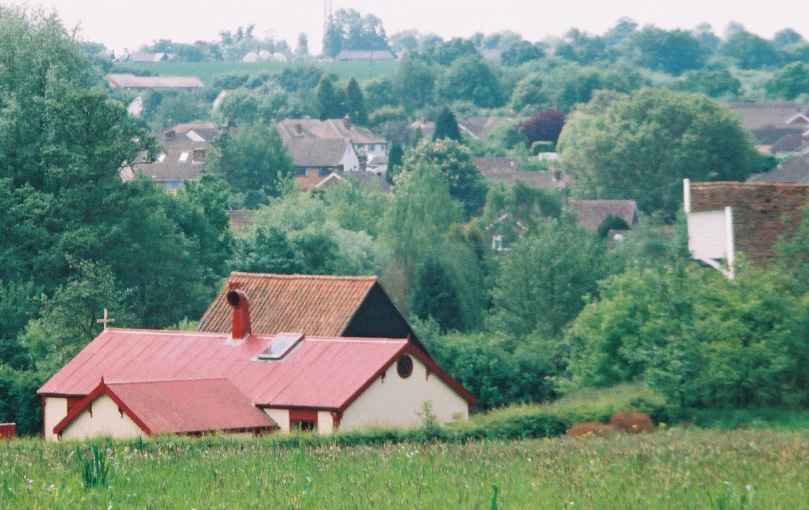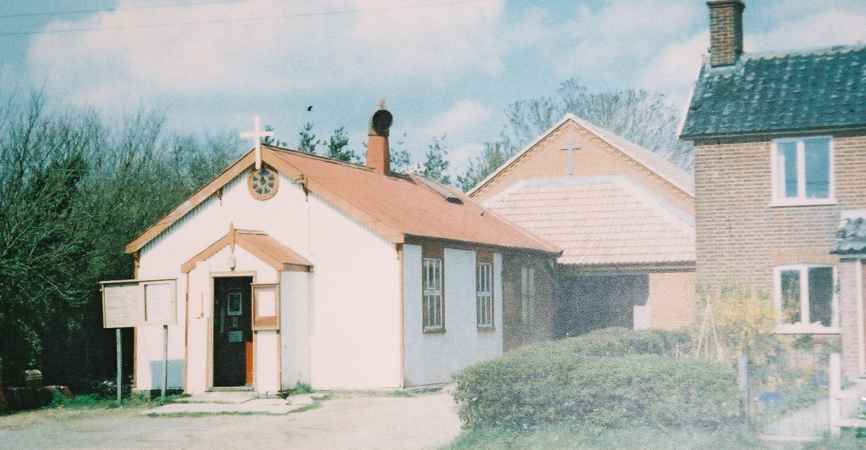 Amazon commission helps cover the running costs of this site