Mortlock found much of the medieval church, and evidence of its liturgical life. This included the font, and what he calls an 'exceptionally fine' 14th century piscina, a photograph of which can be found in Cautley.

There is also a fine collection of 17th century European glass, brought back by the Herveys from their travels, although this may now have been removed. One also fears for the maintenance of the 14th century wall painting of an angel of the Annunciation, which was uncovered in 1911.

There is a picture of this in M.R. James' Norfolk and Suffolk. Presumably the 18th century silk-embroidered coat of arms, the only one of its kind in Suffolk, is no longer in the building.

This is all a terrible shame, for the Herveys were responsible for the care and protection of many west Suffolk churches, most notably neighbouring Horringer, Westley and Chevington, and they paid for the construction of St John, Bury St Edmunds.

George Hervey, Bishop of Derry and Earl of Bristol, who had the amazing rotunda of Ickworth House built to display the art treasures he collected on his travels around Europe, died without ever seeing it, in Italy in 1803. His body was brought back to St Mary for burial in the vault, and must now be spinnning quietly in his grave. If we listen carefully, and ignore the sheep for a moment, we may even hear it.

St Mary is the only Suffolk church that you actually have to pay to see; the National Trust manages the house and grounds, and a fee is payable on entrance to the Park at Horringer.

It is well worth it, for this is a wonderful place, especially for families. There are wild woodland walks, a magnificent deer park, and an adventure playground. Not to mention the House, of course.

A shame that you can't see inside the church as well.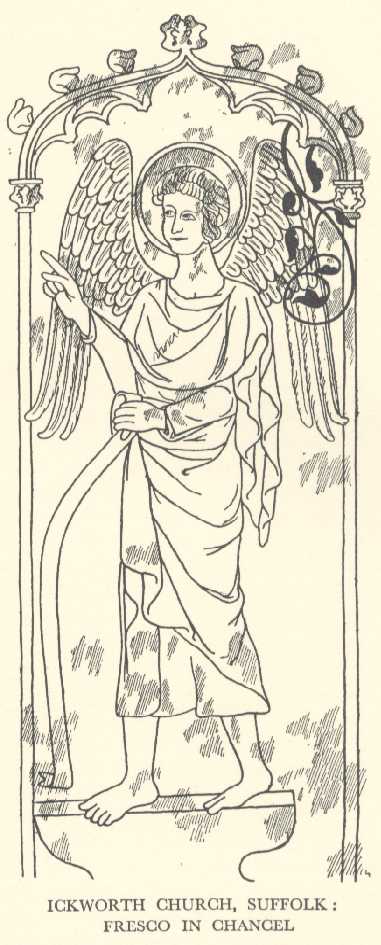 The Ickworth angel, from M.R. James (1930).