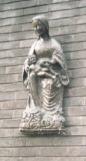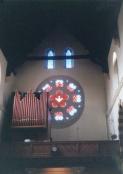 In 1960, in his Shell Guide to Suffolk, Norman Scarfe observed that Ipswich is "the biggest port between Thames and Humber". This may sound like damning it with faint praise, and of course Ipswich is rather more than this. Indeed, the combined port of Ipswich/Felixstowe/Harwich is second today only to Rotterdam in all Europe. The town of Ipswich, home to about 150,000 people, has burst over the Borough boundaries, taking a necklace of surrounding villages into the urban area. It is a prosperous town rarely troubled by unemployment, unlike Lowestoft, its poor cousin up the coast. It still has the social problems of any town of its size, of course, including three large, challenging housing estates, where the war on drugs and gang violence is only just starting.
And yet, Ipswich is rightly referred to as the biggest village in East Anglia. It is a gentle, intimate town, with none of the urban scale or cosmopolitan edge of Norwich and Cambridge, despite its towering 1960s office blocks and ethnic diversity. This is mainly because of the people of the town; wherever they come from, they are, first and foremost, Suffolkers. They are a rural people.
But Ipswich is different to the rest of Suffolk. From the point of view of someone interested in churches, Ipswich is a protestant town. By which I mean that it is a non-conformist town, which embraced puritanism wholeheartedly, and even today perhaps less than a third of all church-goers in the town attend Church of England churches.
This is significant, because Ipswich has 13 medieval churches within its boundaries, more than any other town outside London, Norwich, York and Bristol. Another half dozen lie within the urban area, outwith the Borough only by the whim of a bureaucrat's pen.
Not surprisingly, many of these medieval churches, which after the Reformation housed worshipping communities of the Church of England, are redundant.
These are, in alphabetical order, St Clement, St Lawrence, St Mary at Quay, St Nicholas, St Peter and St Stephen. These churches are landmarks indeed, each one of them less hidden away than many of their counterparts in Norwich city centre. They are an essential part of the townscape. Unfortunately, Ipswich has taken longer than Norwich to find new uses for its redundant buildings. Part of the blame for this must lie in an historical accident. Four of the six of Ipswich's redundant churches were in the care of the Ipswich Historic Churches Trust, set up when the Borough Council took ownership of the buildings in the 1970s. This well-meaning organisation was never properly funded, and didn't seem to have the will to keep the churches open and accessible, with inevitable consequences. However, we are now nearing what appears to be a happy end to the story.
St Clement was used for many years as the Wolsey Theatre prop store, but lay locked and empty after the theatre went bankrupt. However, thanks partly to a serious arson attack, it benefited from a considerable interior restoration. The local Waterfront Churches benefice use it on special occasions, and it now awaits a new long-term use.
St Lawrence was derelict inside for a quarter of a century, the worst cared-for of all the churches, locked and deteriorating. After a massive injection of more than a million pounds of public money, it is now a charity-run restaurant, and is open every day.
St Mary at Quay is in the care of the Churches Conservation Trust, and may be visited. It is used regularly for art exhibitions, although there are plans to grant a long lease to a mental health charity.
St Nicholas has been taken over by the Anglican diocese as an exhibition space and conference centre. It is usually accessible.
St Peter was for many years the home of a model railway society, but was emptied when it looked likely to become an office equipment showroom. Although this fell through, the church was fully restored internally, and is in use as a rehearsal and performance space, as well as a permanent home for the Ipswich tapestries. It is open every day.
St Stephen is the most successful of all conversions; its liturgical integrity was maintained when it became the Ipswich Tourist Information centre in the early 1990s. St Stephen was probably the most significant of these churches in terms of its interior, but both St Nicholas and St Peter contain treasures of national importance.
The medieval churches still open for business are St Helen, St Margaret, St Mary Elms, St Mary at Stoke, St Mary le Tower, St Matthew, and, out in the suburb of Whitton, St Mary and St Botolph. Unlike their poor redundant cousins, all appear to be thriving.
A walk from St Margaret's Plain down Tower Street through to Cromwell Square will take you past the sites of no less than 5 important medieval churches in a little over half a mile.
But Ipswich's medieval churches, with the major exception of St Margaret, are not among Suffolk's finest. Several of the list above have very little medieval fabric left at all.
This is because Ipswich has been a continuously settled town for longer than any other town in England, and it has nearly always been a prosperous one. There has always been plenty of money for rebuilds and refits, and restoration would be too kind a word for what has happened to some of the churches.
In addition, the Borough has only been heritage-minded for as long as it has realised it can make money by being so. Much has been lost, including the remains of an 18th Century Quaker chapel as recently as 1997.
Also missing now are the original civic church of St Mildred, finally destroyed in the 1870s to make way for the Town Hall, and the former shrine of Our Lady of Grace, obliterated after the Reformation, but once one of the busiest Marian shrines in Europe.
In recent years, a great deal of research has been done about the location and drestruction of the shrine, and it is even possible that the shrine image has been traced. A replica has been proudly dedicated in the militantly Anglo-catholic church of St Mary at Elms.
But history, as we know, is written by the victors, and the protestant history of Ipswich is a well-known one, from the Marian martyrs to the independent chapels of the Commonwealth and that great puritan preachers.
The Oxford Movement created several ripples, including the complete Tractarian rebuilding of St Mary le Tower, the civic church. This was when St Mary Elms became Anglo-catholic, which it remains; as is the purpose built St Bartholomew, exotically so.
In the medieval period, Ipswich was the home of no fewer than four big priories; there are substantial but little-known remains of the church of one of these, St Mary Blackfriars.
In addition to the medieval heritage, there is one major non-conformist chapel, the St Nicholas Meeting House, now called the Unitarian Chapel, built about 1700.
There are also several significant late 19th/early 20th century non-conformist churches, including two splendid Baptist chapels in Burlington Road and St Margaret's Street.
There is a historically important cluster of Catholic buildings to the east of the town centre, including the old St Mary, Suffolk's first large Gothic Revival church, and the oddly traditional 1960s new St Mary; while St Pancras in the town centre itself is the fascinating, unfinished, Cathedral that never was.
With two important exceptions, the rebuilt St Mary le Tower and the new St Bartholomew, Ipswich's Victorian parish churches are not significant.
Of the great Victorian architects, Butterfield (St Mary at Stoke), Scott (St Peter) and Goldie (St Pancras) all carried out work in Ipswich, but the work of the first two is hardly amongst their most significant, and that of the last was never completed to his design.
Whitton is delightful, but in general, Ipswich churches had been largely restored before the 19th century, anyway.
Ipswich's 20th century churches are generally uninspiring, but 1930s All Hallows is the finest Art Deco church in all East Anglia, St Thomas is a cool contemporary Anglo-catholic shrine, and Basil Hatcher's 1960s St Francis is also worth a look. Probably the best is not Anglican or Catholic at all, but the Castle Hill United Reformed church.
More or less within the urban area, but outside the Borough boundaries, are the medieval parish churches of Bramford, Kesgrave, Rushmere, Sproughton and Westerfield. Also at Kesgrave, you'll find the jewel-like Catholic church of Holy Family and St Michael.





Current entries: IPSWICH: Alan Road Methodist, All Hallows, All Saints, Ascension, Castle Hill URC, Cauldwell Hall Baptist, cemetery chapels, Christ Church URC, Hatfield Road Congregational, Holly Lodge Baptist, Holy Trinity, Kemball Street Gospel Hall Our Lady of Grace, Shepherd Drive Baptist, St Alban's School Chapel, St Andrew, St Anthony, St Augustine of Hippo, St Bartholomew, St Christopher, St Clare, St Clement, St Clement Congregational, St Etheldreda, St Francis, St Helen, St James (Catholic), St James (Anglican), St John the Baptist (old), St John the Baptist (new), St John's URC, St Lawrence, St Luke, St Margaret, St Mark, St Mary (old), St Mary (new), St Mary Blackfriars, St Mary and St Botolph Whitton, St Mary Elms, St Mary at Quay, St Mary at Stoke, St Mary le Tower, St Mary Magdalene, St Matthew, St Michael, St Mildred, St Nicholas, St Pancras, St Peter, St Peter Stoke Park, St Stephen, St Thomas, Shrine of Our Lady of Ipswich, Triangle church, Unitarian Chapel