Much of the damage was caused by the great east coast floods of 1953, the salt water eating high into the interior superstructure.

As is always the case, it was hoped that an alternative use could be found. But Victorian architecture was deeply unfashionable in the 1970s, and redundancy legislation said that, if a church wasn't important for historical or architectural reasons, a new use had to be found within three years.

This didn't happen, and by 1978 the church was a ruin. Full-scale demolition followed soon after, and a block of flats called Levington House was built on the site.

If St John were declared redundant today, there is no doubt that it would be considered important enough to be saved. Not only was it architecturally significant, but its place in the Lowestoft townscape was central. Comparing the two photographs above and to the right, you can see how the area urbanised in the 30 years between them. There is a sense in which Lowestoft grew around St John, and its loss has left a hole.

One of the former parishioners here was the composer Benjamin Britten; as a child, he accompanied his mother from their home at Kirkley, a mile or so off. She was the organist, and it seems likely that he played it himself. After the closure of St John, the parish was subsumed into that of neighbouring Kirkley.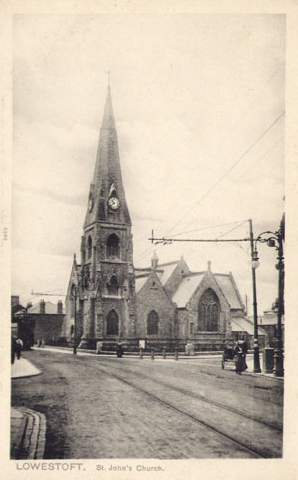 St John at the end of the 19th century. Note the addition of a clock since the photo above.