Hover on an image to read the caption, click on an image to enlarge it: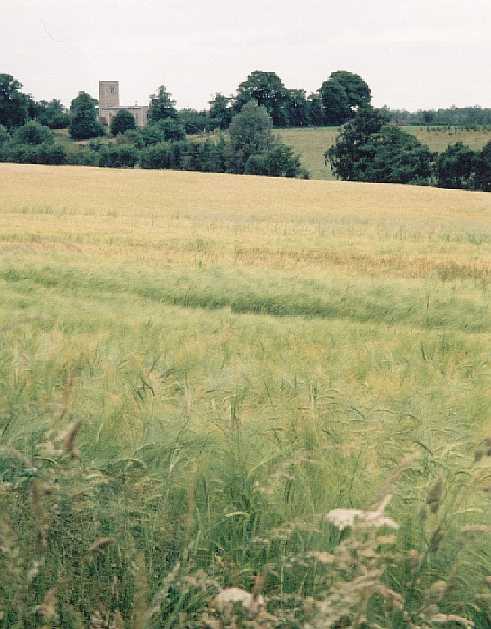 We left Wrentham, and drove on around the vast park of Sotterley Hall, one of England's last surviving seats of the landed gentry still in use for its original purpose. If I had wanted to see St Margaret Sotterley (but I've been before) I would need to walk for a mile and a half across the fields, over stiles, fording streams - there is a road that goes to the church, but because it sits beside the hall, no one is allowed to use it, except for services. However, I had more pressing business than Sotterley's dozen splendid brasses and amazing wall monuments - I was going to stand in a field.
The field sits beside a narrow lane, not far from Willingham Hall. Tantalisingly, the name of the lane is Church Lane. At one end of it is Sotterley, at the other the scary Churches Conservation Trust church of All Saints, Ellough. But the church that gives the lane its name is St Mary, Willingham. Sitting a good two miles from its village, it must always have been a lonely spot up here on this ridge.
At the Reformation, the parish was consolidated with that of Ellough, and the church apparently used as a quarry to repair Ellough and Sotterley. A wall survived as recently as 1926 (pictures, anyone?) but today there is nothing. I stood on the site of the former churchyard, among the waves of barley, looking across to Ellough a half mile away - the proximity of that church to the people must have been one of the reasons for the loss of this one.
I could hear nothing except the wind sweeping up the ridge, the clamour of birdsong, of larks rising out in the field, and warblers in the hedgerow. I could hear distant voices, which may have been the ghosts of Willingham's lost parishioners, all those centuries ago, engaged in the daily grind of survival, touched by the sacraments of Holy Mother Church, as they took part in the endless cycle of birth, sex and death, little knowing how the Reformation would so suddenly bring their sacramental life to a close. Actually, it was the sound of my children arguing in the back of the car, but I could still imagine it.
An indescribable sense of melancholy came over me as I gazed out across the emptiness. And then, sod this, I thought, got back in the car and headed on for Shadingfield.
St Mary, Willingham, was formerly along the road between the villages of Sotterley and Ellough. The site is at a bend in the road beyond a cottage on the right, just after passing Willingham Hall.