This part of the building has recently been divided to form a social hall and small prayer chapel in the former chancel. This contains benches formerly in St Mary at Quay, and, a remarkable survival under the circumstances, Cautley's original reredos and altar.

The most recent addition, in the 1990s, dwarfs the earlier parts. It is a great carpeted square auditorium, complete with audio-visual technology, and quite different from any other church in Ipswich.

But this is because St Andrew is, in character, quite unlike any other Ipswich Anglican church. It is part of the Reform movement, an evangelical equivalent of Forward in Faith. The worship here is charismatic in character, and attracts people from a wide area.

And it continues to find a place for itself in its new parish. The new meeting rooms are used regularly by local groups, spiritual and secular alike. This is a lively, thriving church community.

I'm also delighted to report that the people here are very encouraging towards churchcrawlers and the like, happily opening up for me to take photographs.





St Andrew's Church, Britannia Road, Ipswich, is open for business most days. Bus number 7 from the town centre stops nearby in Foxhall Road.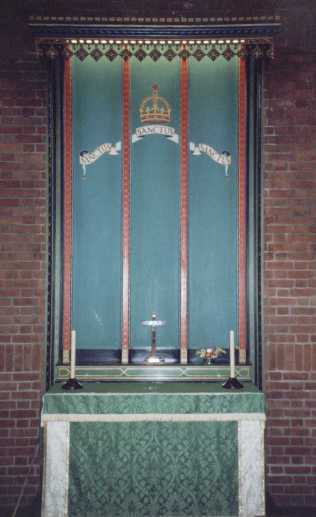 Cautley's original reredos surviving in Britannia Road - pure 1930s austerity.